▶ Table of Contents
System Overview
SuperMIC (pronounced as Super Mick) is an LSU supercomputer funded by an National Science Foundation's (NSF) Major Research Instrumentation (MRI) award to the Center for Computation & Technology. 40 percent of its computational resources are reserved for participants in the Extreme Science and Engineering Discovery Environment (XSEDE) program, a national system of leadership-class HPC machines that scientists can use to share computing resources, data, and expertise.
SuperMIC is capable of a peak theoretical performance of over 925 TF. It achieved a performance of 557 TF during testing, which placed it as number 65 in the June 2014 Top500 List.
SuperMIC went operational on October 1, 2014. It contains a total of 382 nodes, each with two 10-core 2.8GHz Intel Ivy Bridge-EP processors. 380 compute nodes each have 64 GB of memory and 500 GB of local HDD storage. 360 of the compute nodes have 2 Intel Xeon Phi 7120P coprocessors. 20 of the compute nodes have 1 Intel Xeon Phi 7120P coprocessor and 1 NVIDIA Tesla K20X. The system is available to LSU and XSEDE users via an allocation process. XSEDE users may submit allocation and account requests through the XSEDE User Portal. LSU users will need to use their LSU HPC credentials to gain access to SuperMIC (see: LSU HPC account request), and require access to an LSU HPC allocation (see: LSU HPC allocation request) to run production jobs on the system.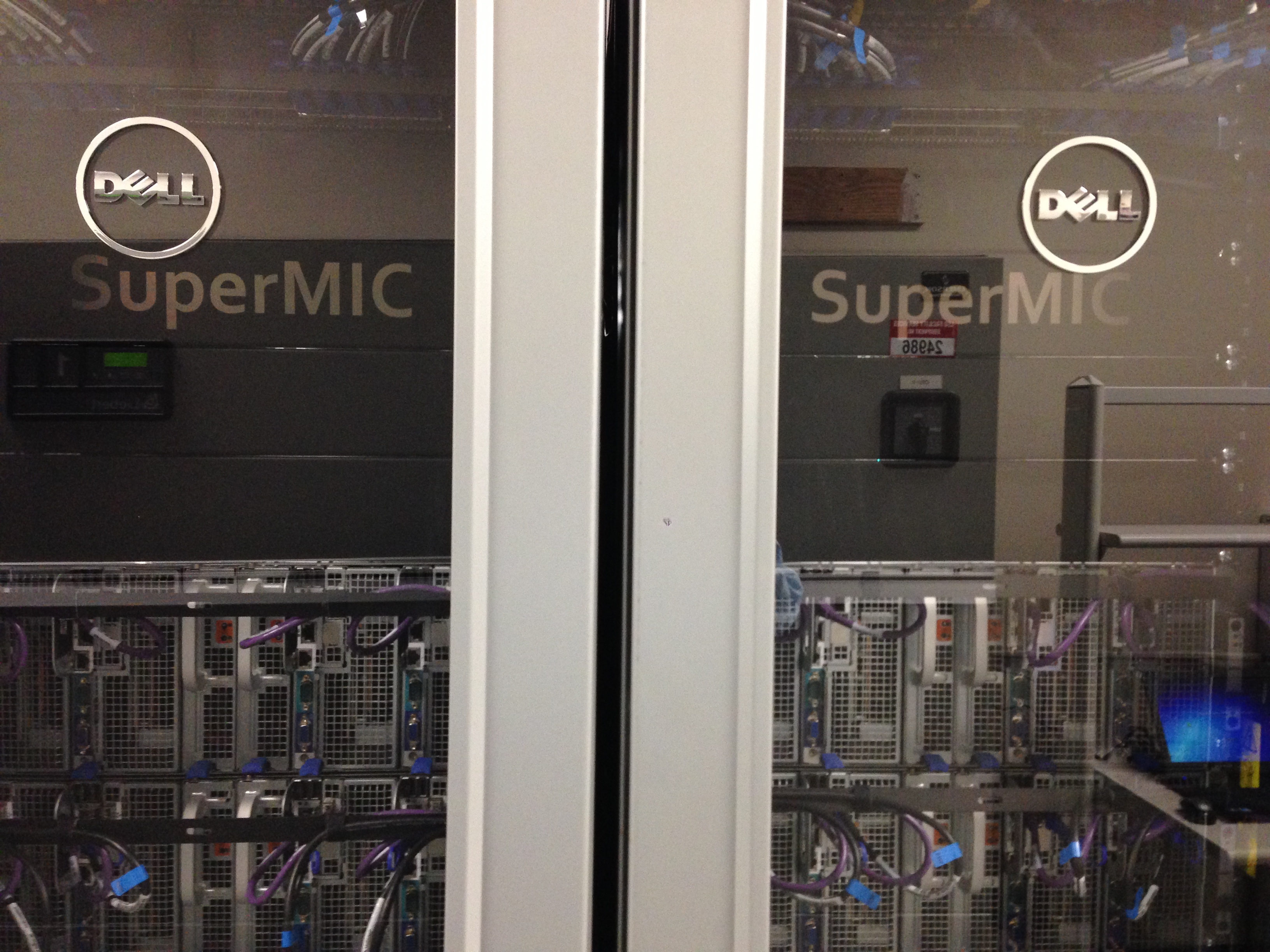 Configuration
1 Interactive Node

Two 2.8GHz 10-Core Ivy Bridge-EP E5-2680 Xeon 64-bit Processors
One Intel Xeon Phi 7120P Coprocessors
128GB DDR3 1866MHz Ram
1TB HD
56 Gigabit/sec Infiniband network interface
10 Gigabit Ethernet network interface
Red Hat Enterprise Linux 6

1 Interactive Node

Two 2.8GHz 10-Core Ivy Bridge-EP E5-2680 Xeon 64-bit Processors
One NVIDIA Tesla K20X 6GB GPU
128GB DDR3 1866MHz Ram
1TB HD
56 Gigabit/sec Infiniband network interface
10 Gigabit Ethernet network interface
Red Hat Enterprise Linux 6

360 Compute Nodes

Two 2.8GHz 10-Core Ivy Bridge-EP E5-2680 Xeon 64-bit Processors
Two Intel Xeon Phi 7120P Coprocessors
64GB DDR3 1866MHz Ram
500GB HD
56 Gigabit/sec Infiniband network interface
1 Gigabit Ethernet network interface
Red Hat Enterprise Linux 6

20 Hybrid Compute Nodes

Two 2.8GHz 10-Core Ivy Bridge-EP E5-2680 Xeon 64-bit Processors
One Intel Xeon Phi 7120P Coprocessors
One NVIDIA Tesla K20X 6GB GPU with GPUDirect Support
64GB DDR3 1866MHz Ram
500GB HD
56 Gigabit/sec Infiniband network interface
1 Gigabit Ethernet network interface
Red Hat Enterprise Linux 6

Cluster Storage

840TB Lustre High-Performance disk
5TB NFS-mounted /home disk storage